About Us
Devotional Digest was established in 2000 to support a tract/devotional distribution ministry by Damian Chambers. Over the years, these devotionals have been shared by email and print to hundreds of persons. This is the online version of devotional digest.
Radio Programme
In 2017, we started a 10-minute daily devotional radio programme on NCU FM. This ran for 1 1/2 years. Some of those devotionals can be found on this site in text and audio.
Besides devotionals, I have also shared other resources that I have used in my ministry. These include sermons, presentations, software, bible study guides and other resources for Bible study. My desire is to share these resources to help others in their ministry for the building up of the kingdom of God.
Feel free to enjoy and share.
Damian Chambers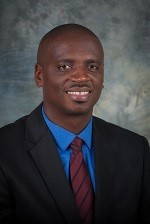 Damian Chambers is a Pastor, Conference Director, Author, Radio Host and Software Developer. He is passionate about sharing the gospel through technology and developing resources for ministry. 
He is married to Roxanne Mckoy, a teacher by profession. They have two children, Jaheem Ricardo and Janae Avielle. In his leisure time, Pastor Chambers also enjoys Lawn Tennis, Table Tennis, Computer Programming, Football and Cricket.